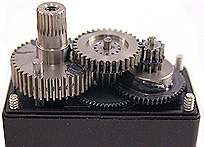 The HSR-5498SG features extremely strong steel gears offering unbeatable strength and very low backlash over thousands of cycles.
SPECIFICATIONS
Interface: HMI Protocol, RS-232C Daisy Chain, PWM
Required Pulse: 3-5 Volt Peak to Peak Square Wave
Pulse Cycle: 12-26ms (Common: 21ms)
Operating Voltage: 6.0-7.4 Volts
Operating Temperature Range: -20 to +60 Degree C
Operating Speed (6.0V): 0.22sec/60° at no load
Operating Speed (7.4V): 0.19sec/60° at no load
Stall Torque (6.0V): 152.76 oz/in. (11kg.cm)
Stall Torque (7.4V): 187.48 oz/in. (13.5kg.cm)
Operating Angle: Up to 180° Max
360 Modifiable: Yes
Direction: Clockwise/Pulse Traveling 1100 to 1900usec
Current Drain (4.8V): 8mA/idle and 230mA no load operating
Current Drain (6.0V): 8.7mA/idle and 285mA no load operating
Dead Band Width: 8usec
Motor Type: 3 Pole Ferrite
Potentiometer Drive: Indirect Drive
Bearing Type: Dual Ball Bearing
Gear Type: Steel Gears
Connector Wire Length: 15.87" (400mm)
Dimensions: 1.57" x .78"x 1.85" (40 x 20 x 47mm)
Weight: 2.10 oz.. (59.8g)
Features:
Hitec Proprietary HMI
Parameter Setting Capability
Data Feedback (Position, Current, Voltage)
RS-232C Daisy Chain Interface up to 128 servos
Flexible Mechanism Design
Dual Axis Mount
Heavy Duty Karbonite Gears
Dual Ball Bearing
MOS Fet Drives
Uses C1 Standard Spline
This servo can be configured to operate 180° two ways. Option 1, send a pulse signal ranging from 600usec to 2400usec. Option 2, use the HMI Programmer to modify the internal servo program.
It has a drive side and a freewheel side. It is designed this way for various attachments.