This power house servo raises the roof with an aluminum heat-sink case that offers a longer duty-cycle for those really tough applications. The performance is staggering for a servo this size. It is the first in the industry to offer a full set of titanium gears with 48 times the strength of nylon gears. Each gearset shaft uses in bronze bushings for durability and strength.
SPECIFICATIONS
Control System: +Pulse Width Control 1500usec Neutral
Required Pulse: 3.3-7.4 Volt Peak to Peak Square Wave
Operating Voltage: 4.8-7.4 Volts
Operating Temperature Range: -20 to +60 Degree C
Operating Speed (6.0V): 0.15sec/60° at no load
Operating Speed (7.4V): 0.12sec/60° at no load
Standing Torque (6.0V): 333 oz/in. (21.2kg.cm) with 5° deflection
Standing Torque (7.4V): 417 oz/in. (39kg.cm) with 5° deflection
Operating Angle: 60° one side (programmable to ±90°)
360 Modifiable: Yes
Direction: Clockwise/Pulse Traveling 1500 to 1950usec
Current Drain (6.0V): 3mA stop, 300mA/idle and 4.2A stall
Current Drain (7.4V): 3mA stop, 380mA/idle and 5.2A stall
Dead Band Width: 2usec
Motor Type: Coreless Metal Brush
Potentiometer Drive: Six Slider Indirect Drive
Bearing Type: Dual Ball Bearing MR106
Gear Type: 4 Titanium Gears
Connector Wire Length: 11.81" (300mm)
Dimensions: 1.57" x .78"x 1.45" (40 x 20 x 37mm)
Weight: 2.18 oz. (62g)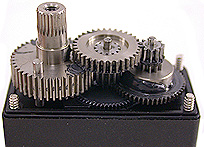 Ultra strong Titanium gears offer unbeatable strength and ultra low backlash over thousands of cycles.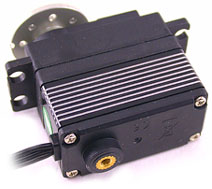 The bottom offers a pivot point that is inline with the output drive on the opposite side.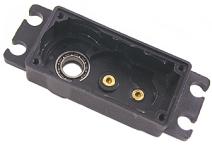 The upper case incorporates brass bushings for the gear shafts for longevity and smooth operation.