If you own the new LEGO® Mindstorms® NXT v2 Kit (Set 8547), this Unofficial NXT Retrograde kit contains just about everything you need to build robots designed for the NXT v1 kit (Set 8527). You get 146 lego elements including an NXT sound sensor.

The store is currently offline. Perhaps you'd like to look into our robotics programs?
Dozens of books
have been published with models and building plans targeted to the original Version 1 NXT. Now you can conveniently purchase all the parts you need at once to build any of those models. No longer will you have to scrounge through your parts bins, place dozens of orders (and pay dozens of shipping charges) from large numbers of online sellers. This single kit has it all.

There are three differences between using this kit to retrograde your NXT and buying a new set.
We don't include the sticker sheet, the original light sensor or NXT-G version v1 (the CD-ROM). Programs requiring the light sensor would require minor changes to use your existing color sensor. Your existing NXT-G software supports all NXT v1 sensors.
Due to availability, the elements probably won't be the exact same color as ships with the original NXT kit. I'll match them when I can, but there are no guarantees as to colors included.
THIS KIT IS $180 LESS THAN THE PRICE OF A NEW v1 NXT KIT, assuming you can still find them. Why rebuy all the parts you already own?
At $99.99, this kit is a fraction of the price of buying a brand new Mindstorms NXT. We created it by comparing the inventories for both sets as listed on Bricklink. Once we made the comparison, we identified which parts were either not included in the original v2 sets or had fewer items included. For example, the NXT v2 kit does not include any large plastic balls while the v1 set has two. Another example - the v2 kit has only ten of the 3L Thick Liftarms while the v1 kit has sixteen. We include the extra six liftarms to bring your total up to sixteen. If Bricklink lists an item as extra in the v2 set, we assume it was not always present and include it in our upgrade kit.

With this kit, you receive:
146 original LEGO elements
One original LEGO NXT sound sensor
A printed list detailing exactly which items are included
The following chart details the contents of the kit: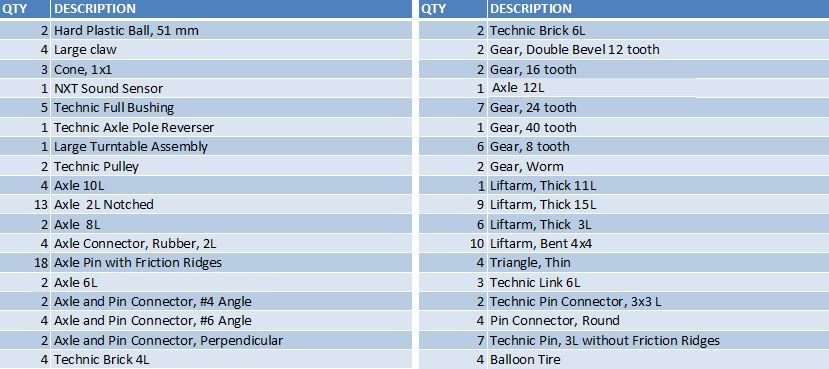 The kit is packaged in several polybags. All parts are new.

These specialty items are geared towards those looking to get just a bit more out of their basic kit. As we add inventory, you'll find a variety of things designed to enhance your fun while building and experimenting with LEGO® Mindstorms®.
Other Terms
Thanks very much for taking the time to shop with us. For payment terms and other terms of sale, please click here.
Internation Buyers: Our Paypal shopping cart is not yet setup to handle shipping calculations for many countries outside of the United States. If your country is not listed on our checkout page (or shipping is US$0.00) Please email us for a shipping quote and payment arrangements for your orders.
Inanimate Reason assumes no liability for any damages or loss of any kind that might arise from the use of, misuse of, or the inability to use the products featured or recommended on this website. Children should be supervised at all times by a responsible adult. Use at your own risk.