Mortgage & Loan
---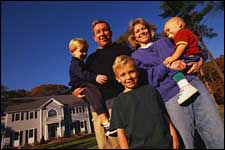 It's about making dreams come true.
Here at First Bank of Catalina, we know how hard it is. Pick up Andy from school, drop Peter off at soccer practice, have a tea party with Mary, and on top of all this, you have to worry about mortgage payment. That's why we like to think of ourselves as being on your side. We are of the firm belief that banks should not be the antagonist, and we show that belief every day when dealing with you, our clients and friends.
We are not only able, but eager to help you get a loan for that new house you've always wanted. Seeing the community grow, and observing the happiness on a client's face when a house becomes a home is something we see every day here at First Bank of Catalina, and we hope to continue to see it for generations to come.
Please call today for information about how we can help you with mortgaging and loan solutions, and how we can help your dreams come true.